Newport Classic Cars
Newport Beach, CA
This project involved the renovation of an existing warehouse building that came with lots of potential. It was purchased with a warren of small offices and hallways but was originally built as a Ferrari showroom, so the existing structure provided plenty of clear spans and open space. Inspiration for the aesthetic came from the outstanding cars and their era but also from the client's unique background. The client wanted to create a space that showcased his classic car collection but highlighted his taste for clean, modern design at the same time. At the heart of the design is the dramatic 2-story lobby which includes a curved and battered (tilted) wall of glass and a custom built floating staircase. These elements evoke the shape and movement of a high-walled racetrack turn while serving to invite clientele up to the second floor gallery.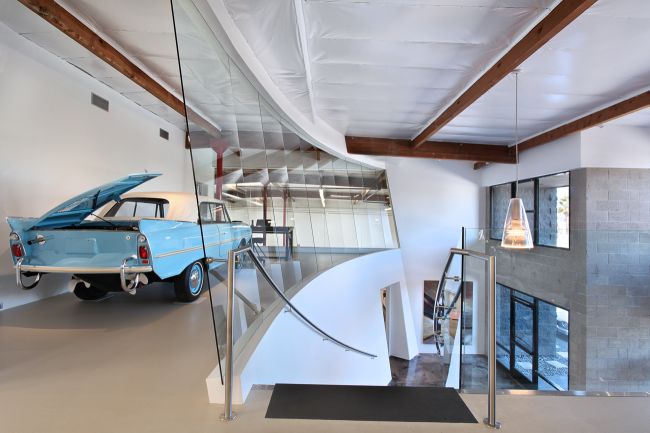 Simple polished concrete floors provide an appropriate backdrop for the collection, while details like brushed aluminum beveled corners provide subtle richness.
A vehicle elevator was installed for the private car collection of about 25 vehicles. There is a full size kitchen at the center of the showroom nestled amongst some of the finest cars. Here we chose to use colors and materials that evoked aesthetics from the mid-century automotive era in a contemporary arrangement. The kitchen range was painted in the Ferrari factory.

Project Stats
Size: Appx. 10,000 S.F.
Collaboration
Architect: Brandon Architects
Builder: Conley Ware
Related Projects